Though I regularly post here about new Windows Insider Preview builds for Windows 10 as soon as they're available. As per the policies of Windows Insider Program, Windows Insider team releases a new build before the expiration of previous build they released. You can read about new builds in following article:
Get Latest Windows Insider Preview Build For PC
Get Latest Windows Insider Preview Build For Mobile
Recently, after installing a latest build, I keep getting the message about the expiry of it. Since it was a newer build, the expiration message should not appear at least for few time but that didn't happened. Here is the message that keep coming:
This build of Windows will expire soon
Your build of Windows will expire on MM/DD/YEAR. If it expires, your PC will restart few hours. Go online for more information.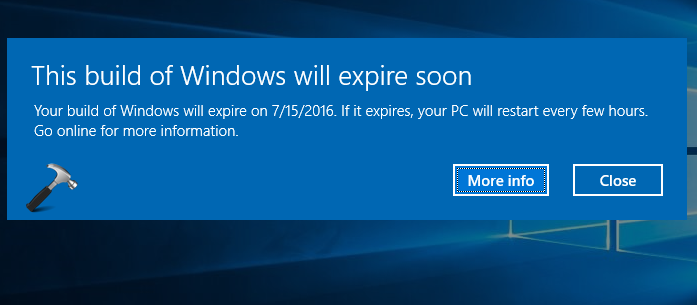 If you're also facing this problem with any of latest build of Windows 10, these suggestions may be worth trying:
FIX : This Build Of Windows Will Expire Soon For Windows 10
1. Check the time and date of your Windows and set them to correct one. Also take help of the steps mentioned here to correct your system locale settings and see if it helps.
2. You should also confirm that your machine's date and time are set correctly in BIOS/UEFI setup. Read steps for it here.
3. Perform Startup Repair/Automatic Repair to bypass the message, in case if it is caused by corruption of any startup file.
4. Run System File Checker to fix corrupted system files and see if it helps. If SFC fails, try DISM commands.
5. Check for latest updates available to you and install all of them. Run Windows Update troubleshooter, if you've trouble installing updates.
6. Activate your Windows build, if it is not activated. Read this if you can't activate.
7. Last suggestion here is to update to a newer build, if available. Go here if you can't check for new build.
I got this error on build 14367 which was released on June 16, 2016. As per the error message, build is set to expire at July 15, 2016 (within a month). However, I believe we should be provided more time to evaluate the build. But, since Microsoft is now releasing two builds per week on an average these days, hence the older builds are expiring fast, that is what I think.
Whatever is the reason, I hope the suggestions mentioned above may help you to suppress the message, Good luck!