Microsoft rolled out Anniversary Update (AU) for Windows 10, more than a couple of weeks ago. if you can't install Windows 10 AU Version 1607, check this fix. This upgrade provided some nice improvements over the November Update released last year. Most of Windows 10 users have already installed this update as of now. But some fraction of users are complaining that AU actually broke some features on their Windows 10 which was working correctly before the upgrade. If you also belong to same fraction of users, this post is for you.h
Recently, I found that Microsoft user forums (Answers and Technet) are flooded these days with Version 1607 after upgrade issues. For some, it broke the webcam while for other, it broke the display and started freezing issues on the system. No doubt, Microsoft is well aware of these issues and I hope they're working on it to provide resolution on these issues under their future updates. However, as of now, you have to deal yourself with the problem you've.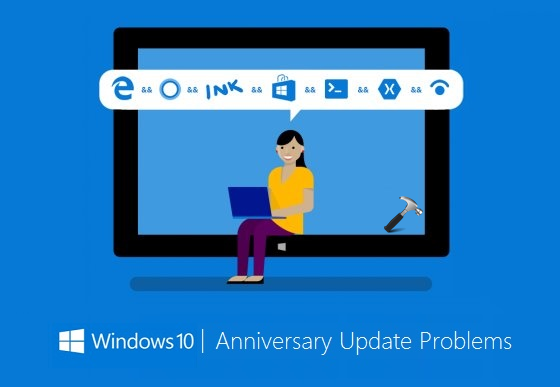 In this article, we're going to enlist most common issues occurred after installing Windows 10 AU Version 1607 and their fixes.
FIX : Windows 10 Anniversary Update Problems
Problem 1: Windows 10 started freezing after installing Anniversary Update.
Solution: Upgrade your display drivers. Also try running System Maintenance, Hardware and Devices troubleshooters.
==============================
Problem 2: Windows 10 doesn't boots after upgrade to Anniversary Update.
Solution: When your system doesn't boots it will stick to Windows logo or your device manufacturer logo and doesn't go beyond them.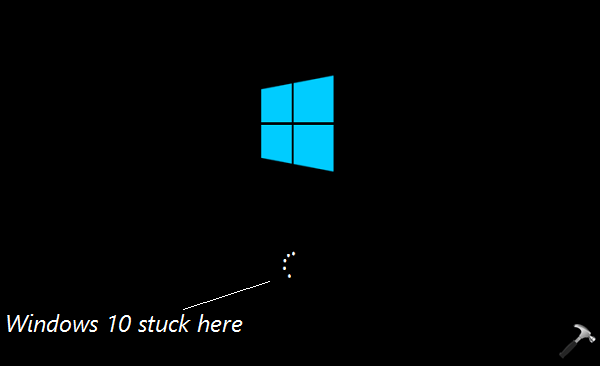 In such case, you've limited number of options to try:
1. Restore your system to some earlier date before you installed AU.
3. Perform Startup/Automatic Repair
5. Reinstall Windows 10 without affecting your files
6. Go back to earlier build (Note that this option is only available for 10 days after upgrade)
7. Install AU using Refresh Windows tool
==============================
Problem 3: No network after installing Windows 10 Anniversary Update.
Solution: First step is to upgrade your network drivers. If they're already latest then go ahead to run Network Adapter troubleshooter. In most of cases, troubleshooter will detect issues and automatically resolve them. But if it fails to fix some issues, you can follow the steps corresponding to the issue. Most common issues are listed here.
==============================
Problem 4: Cortana not working after you install Windows 10 Anniversary Update.
Solution: As an expectation, Cortana should get improved after installing AU but some users faced it reverse. They ended up losing Cortana after getting to Version 1607. An user reported that after upgrade, when he says 'Hi' to Cortana, it starts searching Bing for 'Hi'! You can run Search and Indexing troubleshooter to fix Cortana. For the issue of Cortana disabled by company policy, go here. If Cortana says it won't work in your region, check this post.
==============================
Problem 5: No sound past Windows 10 Anniversary Update.
Solution: Upgrade sound drivers. Run Playing Audio troubleshooter to found and fix issues with audio services. You can also go ahead with possible fixes mentioned here.
==============================
Problem 6: Partitions missing after upgrade to Windows 10 Anniversary Update.
Solution: This is the issue Microsoft engineers have found and they've posted about it the Microsoft Community. But unfortunately, there is no fix for it as of now. Users have to simply uninstall AU by going to an earlier build or by performing System Restore. The last option is to wipe everything and make clean install using Refresh Windows tool.
==============================
Problem 7: Apps such as Store, OneDrive keeps crashing on Windows 10 Version 1607.
Solution: For some of the users, apps may not work properly after update to AU. In this case, when you try to open an app, it closes itself or minimizes or crashes. Try these options:
1. Check registry permissions for apps especially if you're a domain user
2. Run Windows Apps troubleshooter
3. Re-register the specific app or all apps at once
4. Use the Reset option available in AU to set the app to its initial configuration.
==============================
So these were the most commonly faced issues after upgrading to Anniversary Update. Hope the fixes mentioned here helps you to resolve them. If you face any other problem which is not listed here, feel free to add via your comment!